What would be needed to decarbonise a whole village? This is the question it is hoped will be answered by a project taking place in Littlebury.
Uttlesford District Council and Essex County council are supporting Littlebury Parish Council and Saffron Walden Community Energy in the development of an overview plan to help the village move from oil heating to lower carbon options.
Cllr Louise Pepper of Uttlesford District Council says "we're aiming to use this project as a blueprint for other off-grid villages in the district as part of our Climate Change Action Plan. We're enormously grateful for the enthusiasm that Littlebury Parish Council is putting in to help with it. With energy bills on the rise, this is an especially timely intervention".
Phase 1 – 2022
First phase of the Littlebury Energy Project was mainly information gathering:
Sending a questionnaire to all homes so we have better information about the village.
Undertaking detailed analysis of 10 to 15 homes of varying types with the parish, to understand what is needed to improve energy use.
Collating all the information to provide a full report.
Initial results were presented at a very well attended open day on 23rd April at the Village Hall.
From left to right: Emily Brisley (Citizens Advice Bureau), Chris Dodge and Alicia Moersdorf (Saffron Walden Community Energy), Ollie Pendered (Community Energy South) Cllr Paul Gadd (Essex CC) and Chloe Fiddy (UDC).
The results of the first project phase have been brought together in the Littlebury Energy Report, which can be viewed/downloaded here.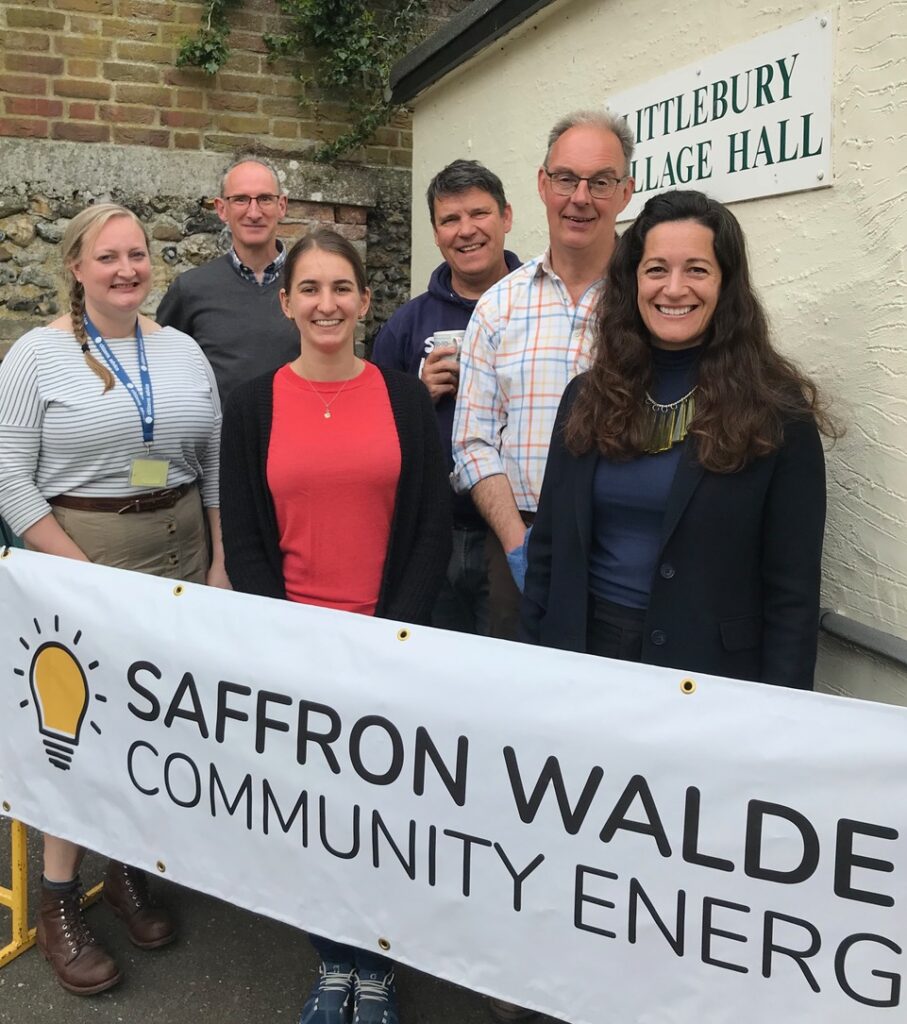 What Have We Learned So Far?
There is a lot of interest in reducing bills, energy usage and carbon emissions, even before the recent energy price rises.
Homes in Littlebury are generally inefficient, so there is a big opportunity to reduceenergy costs. Only 15% have an EPC rating of C or better. This is a long way below the national average of 42%, and is clearly shown in this graphic of Littlebury household energy use versus the average in Essex (from impact-tool.org.uk).
Many homes have been altered or extended, but these changes have rarely reduced energy usage.
Many homes could accommodate some solar PV panels.
Energy efficiency improvements in listed buildings and those in the conservation area can be more difficult due to current planning restrictions.
Finding suitably knowledgeable suppliers and installers is a barrier to work being done.
Phase 2 – From Spring 2023 Onwards
We have been fortunate enough to secure £34,000 funding from Uttlesford District Council's Zero Carbon Communities Fund to start converting what we have learned into concrete action. This will include:
Help homeowners and tenants learn where their homes lose heat, including the use of thermal imaging and home energy surveys.
Find out about grants and funding for energy saving and retrofit work and help people apply for them.
Find reputable trades people and help develop a pipeline of work in the village, such as fitting insulation, solar panels and other green technology.
Work out what kind of retrofit measures work best for the different types of homes in Littlebury, including listed buildings and those in the village conservation area.
Setup a one stop shop where we collect and share our knowledge about grants, funding, ways to save energy and use renewable technology.
Further details and resources will become available on the Littlebury Energy Project Website.